William Suerinck: Mr. Nice - the man without roots
Pinus contorta helps a man suffering from despair and angst to become aware of his own identity.

The impending breakdown of his marriage brings the patient to the brink of a life-threatening crisis. The feeling that his existence is only justified when he is of use to others contrasts with the sense of being alone and expelled, crashing down into a great void and disintegrating. The author uses the vital sensation method to identify the little-known remedy Pinus contorta from the Conifer group, which he can then confirm in the repertory.
---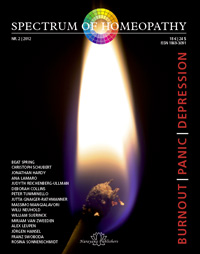 Single issue € 18.- ($ 24) plus
shipment: € 2,90 ($ 4)
~bestellen(11431)~

Set of 3 issues of 2012
€ 45
~bestellen(13810)~
Overview of this edition of spectrum homeopathy
back to list