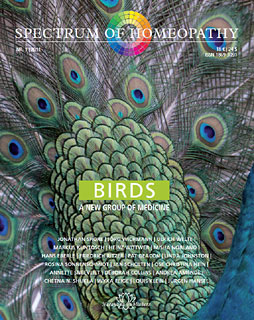 ~abojahr_aboAndIssue~
plus shipment:
2,90 EUR per Issue
Birds - Spectrum Of Homoeopathy 01/2011
A New Group Of Medicine

We are gradually coming to recognize the importance of the bird remedies in homeopathy: to date, only just over 100 remedies have been prepared – so we still lack a sound basis here. Jörg Wichmann helps consolidate our knowledge in this area with his summary of the remedy provings conducted so far.
This issue features an interview with Jonathan Shore, and there are also practical cases introducing us to Raven, Swift, Pelican, and Cormorant. Misha Norland, Markus Kuntosch, Pat Deacon, and other well-known homeopaths extend our knowledge of the Griffin. Annette Sneevliet and Deborah Collins present various Pigeons, Linda Johnston gives us a differential diagnosis of her case of Ara macaw in comparison to similar families, and Rosina Sonnenschmidt discusses the connection between domesticated exotic birds and their keepers. Jan Scholten with Geococcyx californianus and Chetna Shuklas with Pavo cristatus venture into new and uncharted territory, whereas Louis Klein's nosode Tuberculinum aviaire reminds us once again of the deep affinity between birds and humans.