Ose Hein: The Boundary To The Light
An existentially hungry patient seeks protection of her individuality between extreme polarities. A case of Corvus corax.

An underlying addictive tendency – to food, sex, and drugs – characterizes the patient, as she wrestles with the polarity of the godly and the demonic in her life. Her physical complaints, migraine and pain in the musculoskeletal system, accompany her, as she tries to escape her fear. The remedy Raven helps her resolve these issues.
---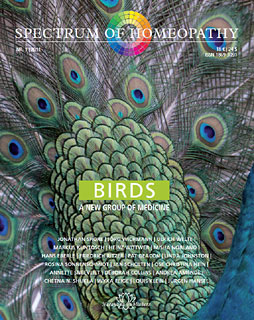 Single issue € 18.- ($ 24) plus
shipment: € 2,90 ($ 4)
~bestellen(09611)~

Subscription fee for 3 issues per
year € 45 / $ 59 plus shipment:
3 x € 2,90 ($ 4) = € 8,70 ($ 12)
~bestellen(11874)~
Overview of this edition of spectrum homeopathy
back to list