Misha Norland: Fighting for its Place in the Sun
A proving conducted in October 2005 at the Devon-based School of Homeopathy reveals the feisty nature of the common house sparrow

The sparrow is the second bird to have been proven at the school. While Falcon represents a pinnacle – the most respected, the swiftest predator – sparrow is at the bottom of the pile and feels disre-spected. small and sprightly, this little bird is often overlooked, its more brightly-colored and flamboyant brothers drawing all the attention, and is actively culled as a pest in countries where it has been intro-duced. "Fighting for its place in the sun" proves to be a major theme; the little bird being a symbol of resist-ance against larger enemies.
---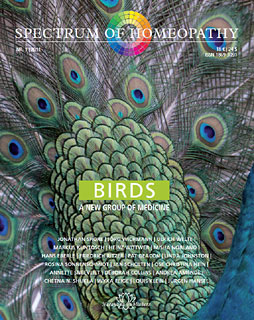 Single issue € 18.- ($ 24) plus
shipment: € 2,90 ($ 4)
~bestellen(09611)~

Subscription fee for 3 issues per
year € 45 / $ 59 plus shipment:
3 x € 2,90 ($ 4) = € 8,70 ($ 12)
~bestellen(11874)~
Overview of this edition of spectrum homeopathy
back to list

~spektrumSlider~