Marie Luc Fayeton: In The Beginning Was Hydrogen
Hydrogen and the yearning for unity with the godly essence.

Following the ideas of Alfonso Masi-Elizalde, the author derives a main theme from the original proving symptoms. Two case histories demonstrate the special method of the Masi school, and the concrete application to the remedy themes of Hydrogen.
---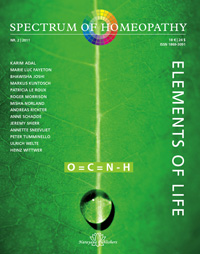 Single issue € 18.- ($ 24) plus
shipment: € 2,90 ($ 4)
~bestellen(09612)~

Subscription fee for 3 issues per
year € 45 / $ 59 plus shipment:
3 x € 2,90 ($ 4) = € 8,70 ($ 12)
~bestellen(11874)~
Overview of this edition of spectrum homeopathy
back to list