M. Mangialavori / D. Collins: On the ropes
Rutaceae patients with grandiose ambitions on the brink of burnout and depression.

This is a summary by Deborah Collins of Massimo Mangialavori's seminars on the themes of the Rutaceae or citrus family, highlighting some of its remedies. All share the father theme with high expectations and ambitions, leading to a neglect of the natural instincts in everyday life, which predestines the patient to burnout and illnesses associated with exhaustion.
---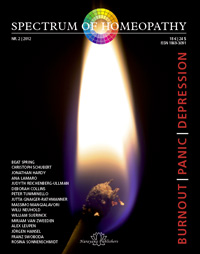 Single issue € 18.- ($ 24) plus
shipment: € 2,90 ($ 4)
~bestellen(11431)~

Set of 3 issues of 2012
€ 45
~bestellen(13810)~
Overview of this edition of spectrum homeopathy
back to list