Louis Klein: Nosodes For Bird-Poeple
The old remedy Tuberculinum aviaire has assumed fresh significance in the light of the new group of bird remedies.

Together with the acute clinical indications influenza, asthma, and bronchitis, Tuberculinum aviaire, as a miasmatic remedy, is suitable for chronic diseases and for people who need a constitutional remedy from the group of bird remedies. The remedy picture of this nosode displays marked similarities to the general characteristics of the bird remedies.
---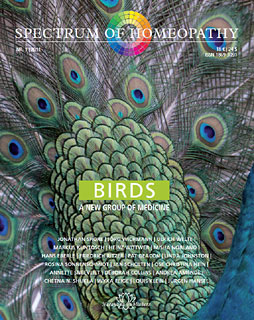 Single issue € 18.- ($ 24) plus
shipment: € 2,90 ($ 4)
~bestellen(09611)~

Subscription fee for 3 issues per
year € 45 / $ 59 plus shipment:
3 x € 2,90 ($ 4) = € 8,70 ($ 12)
~bestellen(11874)~
Overview of this edition of spectrum homeopathy
back to list