Karim Adal: Alone In The Sphere
Petroleum helps a suicidal young woman find her way from depression back to life.

The typical connection between the secondrow remedies and the intrauterine phase and birth can clearly be seen in this detailed case on the carbon compound Petroleum. The young patient manages, with the help of sensitive case-taking, to directly name her remedy, aided by the use of pictures and sensations.
---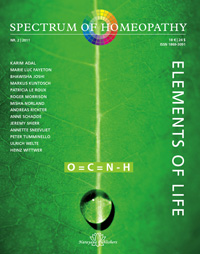 Single issue € 18.- ($ 24) plus
shipment: € 2,90 ($ 4)
~bestellen(09612)~

Subscription fee for 3 issues per
year € 45 / $ 59 plus shipment:
3 x € 2,90 ($ 4) = € 8,70 ($ 12)
~bestellen(11874)~
Overview of this edition of spectrum homeopathy
back to list