Jutta Gnaiger-Rathmanner: The psychodynamics of burnout
Lac humanum, Daphne mezereum, and Arsenicum album – three examples of the many unique faces of exhaustion.

Burnout often looks the same in different patients although it is caused by many different factors. The author demonstrates her personalized and sensitive method of casetaking, informed both by homeopathy and psychotherapy, to appraise the key aspects of the patient's biography. This helps her to get to the bottom of each case: the state of exhaustion in the Lac humanum case conceals a bonding disturbance from childhood; the Daphne mezereum case is characterized by a connection between chronic immune weakness and burnout; and in the Arsenicum album case it becomes clear that the chronic airway infections of a well-compensated young man have a deeper cause in burnout.
---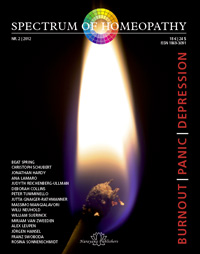 Single issue € 18.- ($ 24) plus
shipment: € 2,90 ($ 4)
~bestellen(11431)~

Set of 3 issues of 2012
€ 45
~bestellen(13810)~
Overview of this edition of spectrum homeopathy
back to list