Jutta Gnaiger-Rathmanner: Nervous Skin
Tuberculinum is an important nosode for the allergic diathesis.

Against the background of an increase in allergic illness in her practice, the author presents Tuberculinum as an important homeopathic treatment option for this common complaint, which is now reaching epidemic proportions. Four short cases demonstrate the practical application of this remedy, frequently used in children, and help to sketch the remedy picture and define the differential diagnosis.
---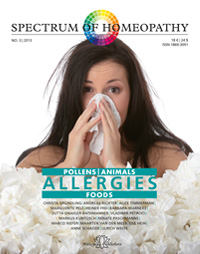 Single issue € 18.- ($ 24) plus
shipment: € 2,90 ($ 4)
~bestellen(13455)~

Subscription fee for 3 issues per
year € 45 / $ 59 plus shipment:
3 x € 2,90 ($ 4) = € 8,70 ($ 12)
~bestellen(15874)~
Overview of this edition of spectrum homeopathy
back to list