Judyth Reichenberg-Ullman: Fear of falling
Borax puts a halt to existential fears and a relentless downward spiral with physical and emotional weakness.

The patient suffers from anxiety disorder and panic attacks since her marriage broke down. She is fundamentally destabilized both mentally and physically by the anxiety, which is accompanied by complaints, such as stomach and gut problems, aphthae, fibrocystic breasts, and dizziness. Borax is the remedy of choice to put her back on an even keel.
---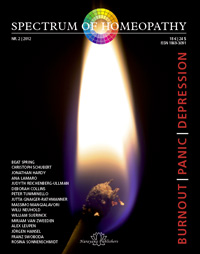 Single issue € 18.- ($ 24) plus
shipment: € 2,90 ($ 4)
~bestellen(11431)~

Set of 3 issues of 2012
€ 45
~bestellen(13810)~
Overview of this edition of spectrum homeopathy
back to list