Jan Scholten: Like In A Tin
A migraine patient creates provocation and chaos to combat her horror vision of being constricted. The roadrunner subdues her restlessness and pain.

A strong need for freedom and the wish to be independent are the patient's basic issues. To satisfy these needs, she offensively pushes forward as much as possible. Her breadth of vision and her interest in spirituality suggest the Lanthanides, yet the duality of restless activity and fixation are found only in the picture of the special bird Geococcyx californianus.
---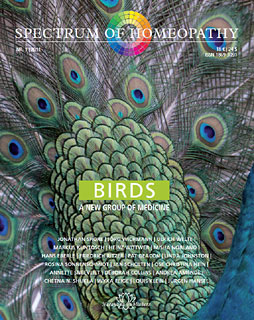 Single issue € 18.- ($ 24) plus
shipment: € 2,90 ($ 4)
~bestellen(09611)~

Subscription fee for 3 issues per
year € 45 / $ 59 plus shipment:
3 x € 2,90 ($ 4) = € 8,70 ($ 12)
~bestellen(11874)~
Overview of this edition of spectrum homeopathy
back to list