Heinz Wittwer: My Friend, The Eagle
Job loss, heart trouble, and Aquila chrysaetos. A case history on the gratifying experience of meeting a bird of prey for the first time.

Based on the characteristics of a patient who reacted very well to homeopathic therapy with the remedy Aquila chrysaetos together with experience of the proving, I was able to begin sketching the remedy picture of the golden eagle.
---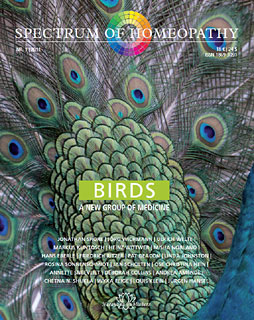 Single issue € 18.- ($ 24) plus
shipment: € 2,90 ($ 4)
~bestellen(09611)~

Subscription fee for 3 issues per
year € 45 / $ 59 plus shipment:
3 x € 2,90 ($ 4) = € 8,70 ($ 12)
~bestellen(11874)~
Overview of this edition of spectrum homeopathy
back to list