Heiner Frei: Hay Fever and Polarity Analysis
• Features • Cases • Results

This article first looks at the disease picture of hay fever, its diagnosis, and conventional treatments. Then, the features of homeopathic hay fever treatment are highlighted, where care must be taken to avoid including natural modalities in the patient's symptom set, since these relate to the occurrence of allergens. An introduction to polarity analysis is given using examples of three cases. Two small prospective hay fever studies – Evaluation of Polarity Analysis for Hay Fever 2005 and Evaluation of Henning Gypser's Basics of Homeopathic Hay Fever Treatment 2002a – demonstrate the kind of results that can be achieved: both treatment methods are equally good, with positive results achieved in 85% of patients.
---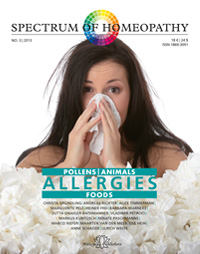 Single issue € 18.- ($ 24) plus
shipment: € 2,90 ($ 4)
~bestellen(13455)~

Subscription fee for 3 issues per
year € 45 / $ 59 plus shipment:
3 x € 2,90 ($ 4) = € 8,70 ($ 12)
~bestellen(15874)~
Overview of this edition of spectrum homeopathy
back to list