Hans Eberle / Friedrich Ritzer: Aiming High And Losing
Haliaeetus leucocephalus, a freedom-loving loner with relationship problems, longs for closeness and contact.

From the remedy proving of Haliaeetus leucocephalus (the blood of the bald eagle) and from observation of healed patients, we identify the essential issues characterizing this remedy in the mentalemotionalarea. It has proved effective in long-term clinical use for problems with menopause, weakness with high fever, numbness and disturbances of feeling in the extremities, as well as various bronchial illnesses and allergies.
---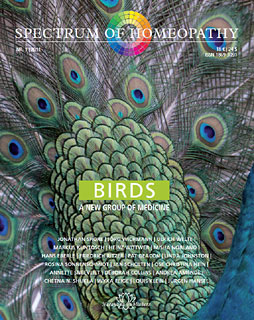 Single issue € 18.- ($ 24) plus
shipment: € 2,90 ($ 4)
~bestellen(09611)~

Subscription fee for 3 issues per
year € 45 / $ 59 plus shipment:
3 x € 2,90 ($ 4) = € 8,70 ($ 12)
~bestellen(11874)~
Overview of this edition of spectrum homeopathy
back to list