Gründling, Schimetta, Frass: Real-Life Effects of Classical Homeopathy in the Treatment of Allergies
A multicenter, prospective observational study.

The patients' complaints improved noticeably with homeopathic treatment and they were able to greatly reduce their intake of conventional medication. The measured real-life effects indicate therapeutic potential and cost savings for the health system, though it does not permit statements to be made about the effectiveness of homeopathic treatment itself.
---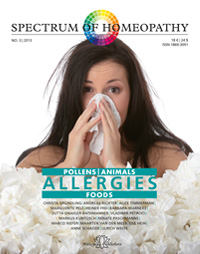 Single issue € 18.- ($ 24) plus
shipment: € 2,90 ($ 4)
~bestellen(13455)~

Subscription fee for 3 issues per
year € 45 / $ 59 plus shipment:
3 x € 2,90 ($ 4) = € 8,70 ($ 12)
~bestellen(15874)~
Overview of this edition of spectrum homeopathy
back to list