Franz Swoboda: Friends going down in flames
Ambra grisea provides salvation from the trauma of extinction.

A depressed patient whose physical and psychological symptoms clearly point to the remedy Ambra – which Hahnemann himself proved – reveals through a nightmare the profound and moving message of the whale about the death of its fellow creatures. Drawing on the history of whaling, the author shows how the suffering in the remedy picture of Ambra resembles the misery inflicted on whales by humans over the last few hundred years.
---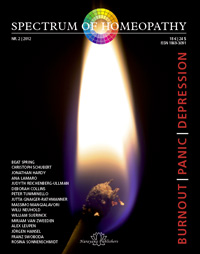 Single issue € 18.- ($ 24) plus
shipment: € 2,90 ($ 4)
~bestellen(11431)~

Set of 3 issues of 2012
€ 45
~bestellen(13810)~
Overview of this edition of spectrum homeopathy
back to list