Deborah Collins: Golden boy crash
Aurum metallicum helps cure the bottomless depression of a top-class sportsman driven beyond his limits.

A successful rugby professional does not fall ill from the competitive challenges of his sport but rather from a destructive anxiety and the feeling of having failed to properly take care of his family. Aurum metallicum, stage 11 of the Gold series, with the theme "enduring the burden of responsibility" covers the problem that has driven this high-powered man into burnout and apparently hopeless depression.
---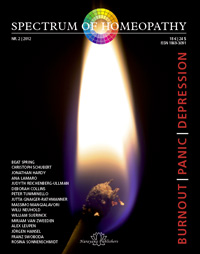 Single issue € 18.- ($ 24) plus
shipment: € 2,90 ($ 4)
~bestellen(11431)~

Set of 3 issues of 2012
€ 45
~bestellen(13810)~
Overview of this edition of spectrum homeopathy
back to list