Beat Spring: Illness as chance
The homeopathic route to the core of the life crisis.

Burnout, panic, depression – as homeopaths we know that the root of the illness lies in the disruption of the life force. This is just as true for mental as it is for physical illness, and it is the most fundamental factor in the attitude to health and illness differentiating homeopathy from conventional medicine.
---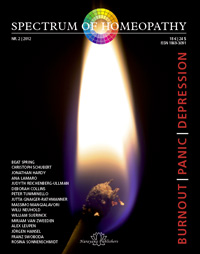 Single issue € 18.- ($ 24) plus
shipment: € 2,90 ($ 4)
~bestellen(11431)~

Set of 3 issues of 2012
€ 45
~bestellen(13810)~
Overview of this edition of spectrum homeopathy
back to list