Anne Schadde: High-Tension Living
Prunus cerasus – a case of histamine intolerance and an instructive zigzag path to two similar members of the rose family.

Pseudoallergic reactions and food intolerance are becoming increasingly common in our practices. The author describes the case of a patient in which the underlying theme behind a variety of symptoms reveals itself as the sensation of the roses. The cancer miasm and a taxonomy error lead to Prunus cerasus.
---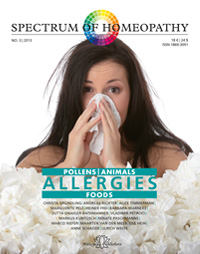 Single issue € 18.- ($ 24) plus
shipment: € 2,90 ($ 4)
~bestellen(13455)~

Subscription fee for 3 issues per
year € 45 / $ 59 plus shipment:
3 x € 2,90 ($ 4) = € 8,70 ($ 12)
~bestellen(15874)~
Overview of this edition of spectrum homeopathy
back to list