Andreas Richter: Intolerance
The grasses wheat and Timothy-grass or cat's tail for allergic and pseudo-allergic reactions.

All grasses – including grasses which bend as well as those with stiffer, hollow stems – have a pronounced relationship connection with intolerance and allergies. The author describes the common symptoms for all these remedies. The grass family is viewed in terms of attachment theory and a particular style of family dynamics affecting respect for the individual's personal space in the family system. The case histories present the remedies Phleum pratense (Timothy-grass or cat's tail) and Triticum vulgare (wheat). The stress cycle of each patient is described.
---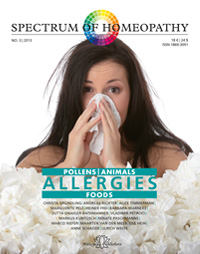 Single issue € 18.- ($ 24) plus
shipment: € 2,90 ($ 4)
~bestellen(13455)~

Subscription fee for 3 issues per
year € 45 / $ 59 plus shipment:
3 x € 2,90 ($ 4) = € 8,70 ($ 12)
~bestellen(15874)~
Overview of this edition of spectrum homeopathy
back to list