Andreas Richter: Expansion And Retraction
Hydrogen, Oxygen, Nitrogen, and their relationship to development in early childhood.

The elements of life are reflected in three fundamental developmental principles and their associated basic needs. If the need for unfolding, regeneration, and time in a development cycle are unmet, the homeopathic remedies Nitrogen, Oxygen, and Hydrogen can release the blocked potential. The practical application of these insights is demonstrated using case histories from pregnancy and the first year of life.
---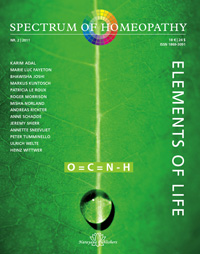 Single issue € 18.- ($ 24) plus
shipment: € 2,90 ($ 4)
~bestellen(09612)~

Subscription fee for 3 issues per
year € 45 / $ 59 plus shipment:
3 x € 2,90 ($ 4) = € 8,70 ($ 12)
~bestellen(11874)~
Overview of this edition of spectrum homeopathy
back to list