Ana Lamaro: Fear of destruction
In this case of Lithium bromatum, a severely traumatized patient is helped by a combination of homeopathy and psychoanalysis.

Recent advances in the understanding of the neurobiological pathways of stress reactivity unequivocally support the unitary body-mind foundations of medicine, as pioneered in Hahnemannian theory and methodology. This case of Lithium bromatum provides a focus to explore these mechanisms using the twin prisms of homeopathy and psychoanalysis.
---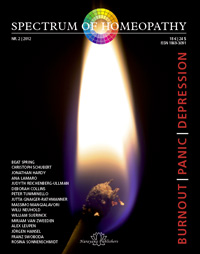 Single issue € 18.- ($ 24) plus
shipment: € 2,90 ($ 4)
~bestellen(11431)~

Set of 3 issues of 2012
€ 45
~bestellen(13810)~
Overview of this edition of spectrum homeopathy
back to list