Alize Timmerman: Overreaction at all Levels
Iodine remedies for thyroid disease with allergies.

In this article, the relationships between the hormones of the thyroid gland and the Iodiums are investigated. The focus is on two sets of complaints: seasonal allergies and mood swings, especially outbursts of anger. The materia medica of four iodatum remedies is reviewed – Ferrum iodatum, Magnesium iodatum, Kalium iodatum and Calcium iodatum – and for each remedy a case illustrating the mode of action of the remedy is presented.
---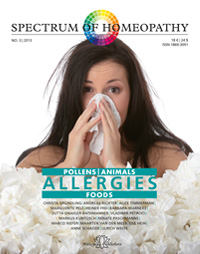 Single issue € 18.- ($ 24) plus
shipment: € 2,90 ($ 4)
~bestellen(13455)~

Subscription fee for 3 issues per
year € 45 / $ 59 plus shipment:
3 x € 2,90 ($ 4) = € 8,70 ($ 12)
~bestellen(15874)~
Overview of this edition of spectrum homeopathy
back to list